Vegan Pancake Recipes

Mattie
2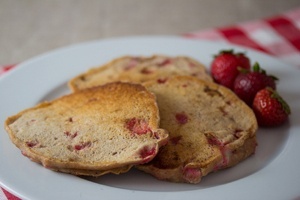 Strawberry and rhubarb are joined together in holy matrimony with orange zest and a touch of sugar in these Vegan Strawberry Rhubarb Pancakes. I opted to not make these pancakes too sweet because I like real maple syrup or a liberal topping of strawberries to drive the sweetness. If you like your pancakes sweet you may want to consider adding a couple Tablespoons more sugar. Or top them with sweetened vanilla yogurt for a new take on strawberry shortcake. I repeat: you can con your friends into enjoying something really close to strawberry shortcake for breakfast! Either way it'll be a breakfast to remember.
Vegan Ice Cream Recipes

Mattie
7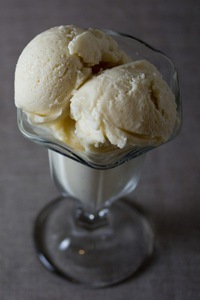 Few desserts are as satisfyingly simple as Vegan Vanilla Ice Cream. Over the years I've had dozens of different styles and I've developed a preference for what I believe to be optimal qualities in ice cream. I believe it should be rich, smooth, delicately melt into a creamy base in your mouth but not linger for too long and not have off flavors. I don't prefer ice creams that are frozen into a block of ice, nor do I approve of ice creams that have the texture and taste of ice milk. So how do you develop a soft, creamy, flavorful vegan vanilla ice cream recipe without using eggs or dairy? While we're on the subject of ice cream, how do you develop an assertive vanilla flavor while not being over-the-top and making it taste artificial?
Vegan Hearth Bread Recipes

HildaJorgensen
6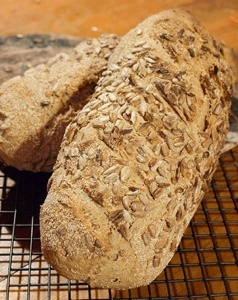 A recipe from my book
Triumph of the Lentil
, this is my staple bread recipe. Even with a newborn and a toddler to look after I manage to bake this twice a week, so that we never have to buy bread. Because of the slow rising time it requires very minimal kneading (only enough to mix in the flour), doesn't require any oil or sugar to taste good and stays fresh for longer. The slow rise develops the gluten in the same way that kneading would, but results in a superior taste.
Each rise can take between eight and twenty hours and put in the fridge at any stage, to be baked within two weeks. I like to make each rise around twelve hours. It can also be sped up a little, to make the total time as little as 16 hours by doubling the amount of yeast and combining the first and second rise together.
The Faces of Vegan Baking

Mattie
0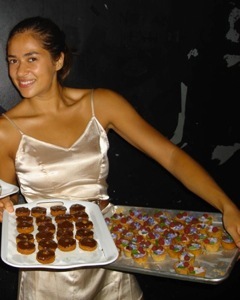 Anita Shepherd is the passionately creative vegan baker behind
Electric Blue Baking Company
. In this month's Faces of Vegan Baking interview, she shares her insights on what it takes to be a professional vegan baker, her main inspirations as well as an exciting new development for Electric Blue! Anita believes in bucking the norm and taking the time to do things right; she makes her own phyllo dough by hand in order to have the highest quality dough. If that's not dedication I don't know what is!
Vegan Egg Replacer Recipes

HildaJorgensen
3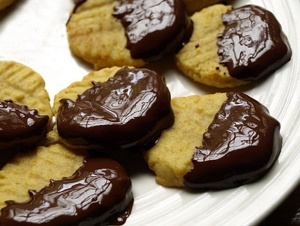 I am often shocked when I read egg replacing tips written by other vegans, because chickpea flour never seems to be there. While my go-to egg replacer used to be ground flaxseeds, since discovering chickpea flour I have never looked back.
Chickpea flour is readily available in health food shops, along with Indian, Italian and French grocers. It is also known as besan, chana flour, gram flour, cici flour and garbanzo bean flour. You can even make your own out of whole, dry chickpeas if you have a grain mill or very powerful food processor.
Vegan Cookie Recipes

Renoodle
5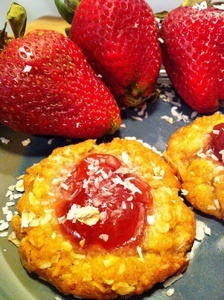 Anzac cookies are probably one of my favorite cookies! The richness of coconut, the depth of Lyle's golden syrup all held together with oats, flour and sugar…oh yeah, and your favorite non-dairy butter too! How incredibly delicious this mixture is. All I can say is THANKS AUSTRALIA for coming up with a perfect cookie. Australians call these cookies biscuits and they were developed during the first World War for the soldiers. They were perfect for travel because they do not contain milk or eggs, which means the soldiers had a yummy way to have sustenance while away. The one secret ingredient is Lyle's Golden Syrup. I found mine at a local store that has an international section. Look where you might find ingredients from the UK, you will likely find this sweet gem. There's only one way it could get better…add fruit! So which fruit goes well with coconut and oats? My pick is strawberry. I originally planned on making homemade strawberry jam but then got impatient (big surprise for those who know me) and bought a jar of organic strawberry preserves instead. I suppose that for this recipe you could use homemade jam and it would add another layer of deliciousness. These cookies are sweet, rich and the texture is a little chewy, a little soft…and A LOT delectable.
Vegan Yeasted Enriched Bread Recipes

Mattie
4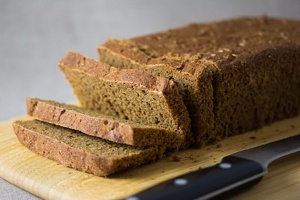 After falling in love with rye breads I became fascinated with developing a bread containing 100 percent rye. I knew that taking all of the wheat flour out of a bread recipe would wreak havoc on the end result and a high-rising crusty bread would not be obtainable. This is because wheat flour is unique in that it contains two proteins in the wheat endosperm called glutenin and gliadin. When these proteins hydrate and undergo friction, they unravel like balls of yarn, bind together into sticky strands and form a structure building network. This elastic web of protein holds in air bubbles during leavening and acts as a structure builder after the bread cools, resulting in a high-rising, fluffy, springy loaf.
Vegan Yeasted Enriched Bread Recipes

Mattie
4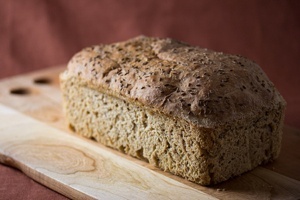 A tough of sugar takes the edge off the bitterness of the rye in this Easy Vegan Rye Bread recipe. Molasses has been added to increase the overall richness of the rye flavor and caraway seeds adds an interesting layer subtle spicy cool to the loaf. Feel free to experiment with these additions and change them if you prefer. The loaf will still turn out roughly the same.
Initially I was intrigued by the flavor of rye breads but intimidated by baking them. How was I supposed to bake flavorful, crusty loafs with most of the leavening-enhancing gluten out of the picture? A little research found that although rye flour contains about the same amount of protein than regular flour, most of this protein isn't from
glutenin
and
gliadin
, the two protein compounds that unravel and combine to create gluten when water is added and the mixture is kneaded. What rye flour does contain though are natural gums called
pentosans
which absorb about 16 times their weight in water. This is the puzzle piece of how these breads are crafted.