Vegan Bonbon Recipes

Mattie
0
{loadposition share}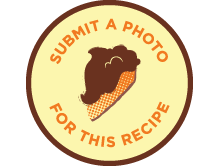 These Vegan Pecan Bonbons are beautifully simple because they're made up of just dates, cinnamon, almond butter and coconut blended to perfection. It's just an effortless, fruit-sweetened treat.
Other Vegan Baking Recipes

Mattie
3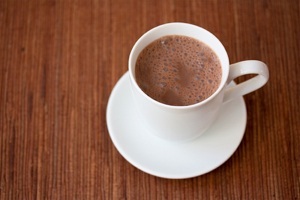 This Heavenly Vegan Hot Chocolate recipe is great when it's cold outside and you need a nice warm friend. Two different types of chocolate really amplify the cocoa notes which are further enhanced by coconut sugar, a bit of espresso powder and a touch of cayenne. Coconut sugar lends an additional layer of complex richness but if you don't have it, granulated white or turbinado sugar works too. It's then simmered to allow everything to meld together. Feel free to customize it by adding a splash of coffee, mint extract, Kahlua or enjoy it on its own.
Vegan Egg Replacer Recipes

Mattie
9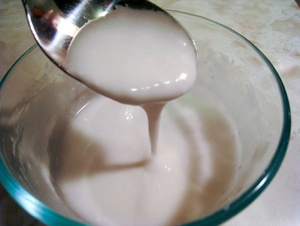 Omitting the almighty egg in recipes can lead to serious baking disasters. It's rumored that the Romans put eggs in their concrete to improve its strength. Vegan Egg Replacer Powder is a very effective egg substitute that's great for replacing eggs in most vegan baking recipes where heat is involved. It's an important piece of weaponry in your vegan baking arsenal. When I ran my baking company, Enchanted Oven Baking Co, I used this egg substitute recipe extensively with my cookies to make them soft, dense and chewy.
This binding powder consists of a blend of starch, vegetable gum and a leavener. Arrowroot is used as the starch because it performs well and is one of the most tasteless starches. Baking powder is used to mimic the slight leavening properties that an egg would contribute. Guar or Xanthan gum improves emulsification of fats and oils much like an egg would. Use Egg Replacer Powder as a more affordable direct replacement for
Ener-G Egg Replacer
.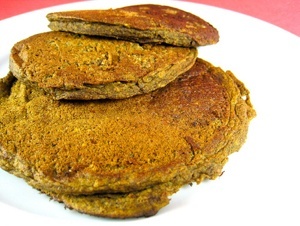 This Vegan Pumpkin Buckwheat Pancake recipe features pumpkin enhanced with barley malt syrup, nutmeg, cinnamon and cloves.
Buckwheat flour
then lends an earthy, nutty richness. They're delightful topped with a touch of almond butter, fruit and/or real maple syrup to brighten up any morning.
Vegan Pancake Recipes

Mattie
4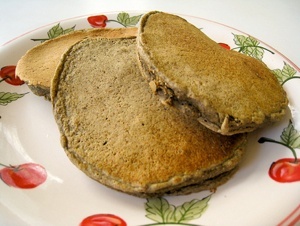 This Vegan Protein Pancake recipe is perfect for breakfast if you really want to make sure you get an adequate dose of protein during the first meal of the day. They utilize your choice of just the right amount of hemp protein powder or soy flour and feature chopped walnuts to further increase the protein ante and add to the flavor department. Cinnamon, nutmeg and ginger give these vegan pancakes a satisfying flavor that goes great with a splash of maple syrup (or fresh berries if you're hyperventilating at the idea of consuming too much sugar).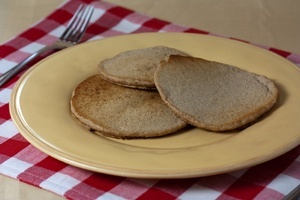 This is your simple, standard Easy Vegan Pancake recipe that strikes a good balance between fluffiness and thinness. They feature enhanced nutrition in the form of whole wheat flour and your choice of oat bran, wheat bran or wheat germ. Feel free to mix 1 cup of chopped fruit or berries into the batter before pouring. Top these vegan pancakes with maple syrup,
Agave Maple Syrup
and/or a dollop of almond butter.
Vegan French Toast Recipes

Mattie
3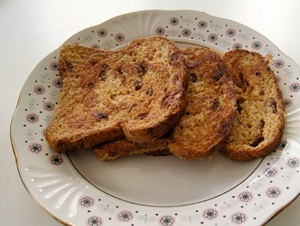 This Easy Vegan French Toast recipe is just one more reason to get up in the morning. It's great for brunch with friends too because you don't have to waste the whole morning being on griddle duty as much as you do with pancakes. It features chickpea flour, nutritional yeast flakes, cinnamon, nutmeg and cardamom to bring out the best combination of savory and sweet flavors.
Vegan Muffin Recipes

Mattie
3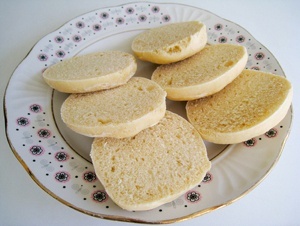 This Vegan English Muffin recipe features just a touch of lemon juice and sugar to enhance its yeast-induced flavors. They're awesome fresh out of the toaster with a little
Vegan Butter
, jam or whatever your preferred muffin topping is. I've been known to use these as burger buns too. They're not loaded with preservatives and dough conditioners like their store-bought cousins but they'll still keep in the freezer stored in a plastic freezer bag for several months.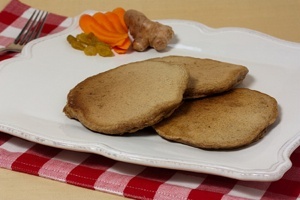 This Vegan Ginger Carrot Raisin Pancake recipe isn't your conventional vegan pancake recipe because it features carrots for a subtle butteriness, raisins for a little extra bonus sweetness and ginger for a hint of spicy finish. it's a great combination of flavors that is further enhanced with a drizzle of maple syrup or
Agave Maple Syrup
.
Vegan Pancake Recipes

Mattie
3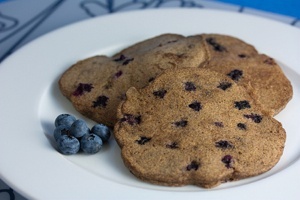 This Vegan Blueberry Buckwheat Pancake recipe features blueberries and
buckwheat flour
which lends them a tart sweetness along with an earthy, nutty richness. You also have the choice of adding either oat bran, wheat bran or wheat germ. These vegan pancakes are delightful topped with a touch of almond butter, additional fruit and/or real maple syrup.
Vegan Pancake Recipes

Mattie
1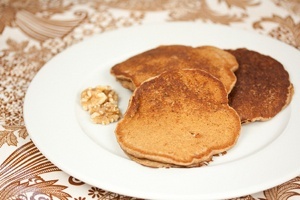 This easy to make Vegan Banana Walnut Pancake recipe features both banana purée and banana slices for maximum banana flavor. Walnuts add an earthy complexity. Top these vegan pancakes with a touch of almond butter, fruit and/or real maple syrup.