Vegan Baking Guides

Mattie
0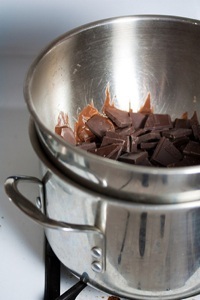 My love affair with chocolate comes from many things: The smell of rich cocoa that fills your nostrils upon opening a box of chocolate; the numerous shapes and sizes and the way the light reflects off their glossy angles; the fillings that lurk within certain chocolates, waiting to be discovered; the snap when you bite into it, sending a shockwave throughout your mouth that signifies that the rush of chocolate flavor has been unleashed to your senses. This telltale snap is like a magician quickly withdrawing a velvet cloak, exposing the magic below.
Fascinated by this experience, long ago I set out to make my own chocolate
chocolate bonbons
with good quality store bought baking chocolate. I'd melt the chocolate and use it to coat some fillings and everything would be great. I could pack them up for Mom and she would be astounded when she learned that I had done this all myself.
There was only one little problem though.
Vegan Granola Recipes

Mattie
5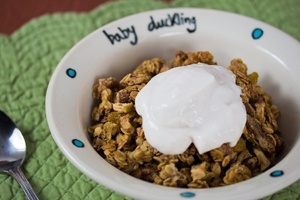 This Vegan Apple Pecan Granola recipe brings on the apple flavor with the help of both apple chunks and apple sauce. Cashew butter forms its base and packs extra protein so you'll have sustained energy throughout your morning. I go low on the sugar for this same reason and to give the other ingredients a chance to contribute flavor. Nutmeg, allspice and cinnamon work to highlight the apple. Chopped pecans toast during baking and add a welcome nutty crunch. Once you've
chosen your preferred apples
and baked this granola to perfection you can add it to ice cream, splash it on non-dairy milk or top it with a dollop of non-dairy yogurt.
Vegan Baking Guides

Mattie
1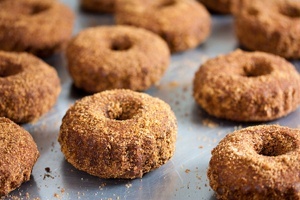 Polish your whisks, restock your vanilla extract, proof your yeast, pre-sift your flour, sharpen your vegan butter knives and mise your place because
Vegan Baking Day
is almost here! Vegan Baking Day is a day to promote how awesome vegan desserts are and have fun doing it. Vegan desserts are still regarded as sub-par in many circles. Vegan Baking Day is all about changing that! Remember those delectible lemon bars you've been meaning to bring to work? you know, the ones that people say you should sell because they're so good? Bake 'em and share 'em! Vegan Baking Day is the day to share your little piece of heaven with your co-workers, friends, lovers, insurance adjusters, dog walkers, enemies and cohorts.
How it Works
Where are you going to be on October 1st? Wherever you are, bring along your favorite homemade vegan baked eats and place them in a communal area to share with anyone who happens to notice. Happen to be at the DMV? A picnic? A houseparty? Just another dreary day at work? These are perfect places to share your eats with the unsuspecting world. Better yet, team up with a few people, set up a table and give out vegan treats to the public at the location of your choice. Let's spread tasty vegan eats worldwide!
When you share your favorite vegan awesomeness with whoever you happen to be around during the 1st of October you accomplish two things:
1) You promote the fact that vegan baked goods are awesome.
2) You have fun. When was the last time someone hated on you for sharing your homemade treats? Everyone wins!
We Need Your Help
We need your help to help spread the vegan baking love as much as possible! If you happen to know any vegan bakers beside yourself who are interested in promoting veganism through
baketevism
, please let them know about Vegan Baking Day, follow
@veganbakingday
on Twitter and and Like the
Vegan Baking Day Facebook Fan Page
.
So what are you planning on baking for Vegan Baking Day and where do you plan to celebrate it?
Vegan Butter Recipes

Mattie
3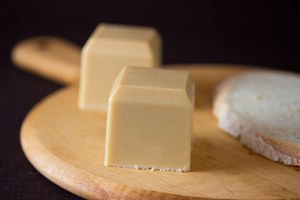 Several years ago, one of my favorite restaurants,
Millennium,
in San Francisco had a particular bread spread they would serve with fresh bread, just as you were seated. This particular spread wasn't buttery, but it had a particular creamy buttery
oomph
that actually made it taste better than butter when it was slathered on your crusty slice. And since it obviously wasn't butter, you could spread on even more without getting funny looks from your Mom across the table. You could run out of it and confidently ask for more, again and again! Then one day they switched over to a fava bean-based spread that was sadly sub par and the bread spread I loved oh so much mysteriously disappeared from existence. This savory bread spread made a lasting impression on me and I knew that one day I would rise to the challenge and create my own rich version.
Vegan Truffle Recipes

thesweetlife
7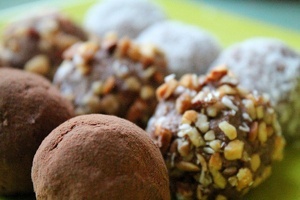 This super easy Vegan Coconut Almond Truffle recipe will satisfy that late night chocolate craving without the excess sugar and empty calories of other desserts. This perfect blend of coconut, chocolate and almond will keep you coming back for more.
Vegan Cheesecake Recipes

thesweetlife
28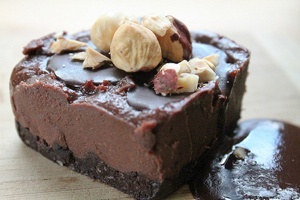 I have to admit, I used to have a sort of prejudice against raw desserts disbelieving in their potential goodness. Oh was I wrong. This is one of my favorite desserts I have ever made. Ever. This Raw Vegan Chocolate Hazelnut Cheesecake is so rich and creamy your friends won't believe that it's vegan.
Vegan Sponge Cake Recipes

G.Vongola666
25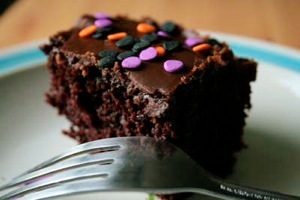 Ok so I found this Vegan Chocolate Cake recipe and it was a HUGE hit with my family and friends. It was quite easy to make as well! I've never really been a cake person, in fact I detest the stuff for the most part; but this cake made even me nod in approval. The blend of coffee that I put in the recipe adds to the chocolaty goodness and taste. It's very moist as well. There is a glaze that goes with the cake, but I personally never use it. I think the cake is just fine alone. However, I will add the directions for the glaze in case you guys want to try it.... Enjoy!
Vegan Icing and Glaze Recipes

Mattie
0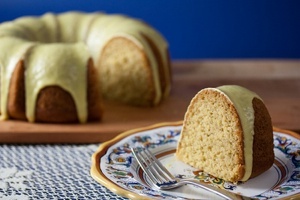 Vegan Orange Icing is perfect for doughnuts, cookies or cakes such as
Rosemary Olive Oil Semolina Cake
. It features fresh orange juice that lends a bright burst of flavor, coconut oil to allow it to solidify properly and a touch of vanilla extract for depth of flavor.
Vegan Cookie Recipes

HildaJorgensen
3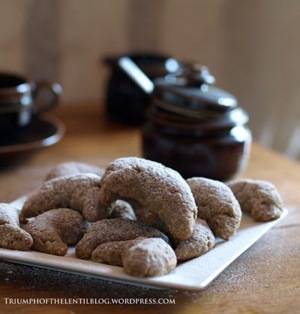 These Vegan Vanilla and Almond Crescents are an incredibly delicious biscuit with just the right amount of sweetness and lots of rich flavours from the almonds and vanilla. My choice of coconut oil for this (and most of my cooking) is the more refined kind, which is refined by filtering it through clay to remove the coconut taste and smell. This gives a 'buttery' flavour and texture to the baked good with all the goodness of coconut oil, but without being overwhelmed by coconut flavours.
Vegan Granola Recipes

Mattie
8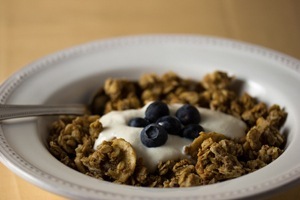 I've designed this Vegan Banana Walnut Granola recipe to be considerably under-sweet so it can be relied upon for a nourishing breakfast that will deliver sustained energy. If you prefer your granola more on the sweet side, increase the sugar by 2 to 4 Tablespoons.
As the granola is toasted, the heat brings out the full potential of rich banana-enhancing notes from the cashew butter, banana chips and walnuts. As bananas ripen, their starches convert to fructose which makes them sweeter and more suitable for baking. In fact, whenever you plan on baking with banana I advise you to always use over-ripe bananas. I usually transfer these over-ripe bananas to a plastic freezer bag and store them in the freezer. When I have enough saved up I use them in things like
Banana Bread
,
Banana Walnut Pancakes
and this granola.
Vegan Cookie Recipes

sugarmamabakeshop
18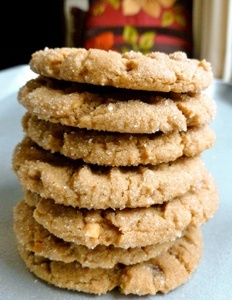 Vegan Peanut Butter Cookies are my very favorite comfort food. These are absolutely as good as I remember them... minus the eggs, dairy and gluten! Perfection.
Vegan Shortening Recipes

Mattie
9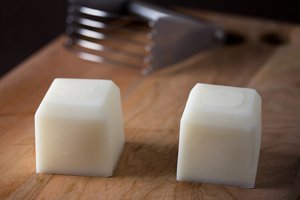 As I progress in my vegan baking adventures I strive for quality ingredients that give me as much control as possible over the flavors and textures I'm trying to convey. I also love breaking foods down to their most basic components and building them back up again, learning and getting unnecessarily excited along the way. For some people it's TV. For me it's this sort of food hacking.
I recently decided that I wanted to create a high quality vegan butter because I began to tire of the store bought
yellow goop
that I was so steadily relying on. What if I don't want all that diacetyl flavoring, beta carotene coloring, palm oil and who knows what else? My vegan butter experimentation ended up
being more successful than I imagined
. What if I made my own shortening?