Vegan Butter Recipes

Mattie
10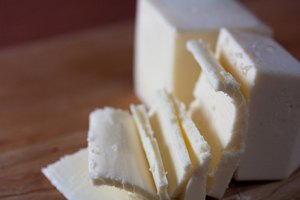 When I originally developed my first
Vegan Butter
recipe I had no idea it would be helpful to so many bakers. I just wanted something that was truly homemade where I had full control of the production process so I could introduce variations to tailor the vegan butter to the application I was working on. Other advantages were that it didn't need to rely on palm oil, which much of the commercial vegan butter industry utilizes, which is linked to rainforest destruction, as well as placing Sumatra orangutans in perilous danger.
The original Vegan Butter recipe uses refined coconut oil for a base, but what happens if there begins to be environmental issues with that type of oil? What if it's difficult to find coconut oil in your area? What if you recently had a dump truck empty 3500 pounds of deodorized cocoa butter in your driveway and you're wondering what to do with it? I don't know which one of these issues led to this, but soon after posting the first Vegan Butter recipe, people started inquiring how to make it using cocoa butter instead of coconut oil.
Vegan Butter Recipes

Mattie
6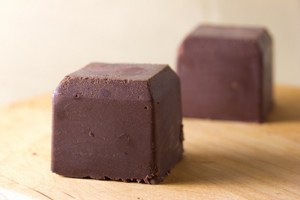 One of the benefits of Vegan Butter is that since you're building it up from scratch, you can have full control of what you want it to be. It doesn't have to go down the route of completely replicating traditional butter if you don't want it to. Why would you want to replicate the texture of butter but not necessarily the flavor?
Frostings
and short doughs such as tart dough,
pie crust
and
shortbread
come to mind. You have much more variability in your end result if you can control flavor through your actual fat in addition to other ingredients. Imagine
chocolate croissants
where the butter is replaced with a fat that has the texture and flavor characteristics of both chocolate and butter. This is the reason I developed Chocolate Vegan Butter. Oh and you can spread it on toast too.
Vegan Egg Replacer Recipes

Mattie
18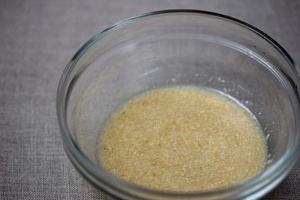 Traditional bakers have been able to create a vast variety of foods over the last several hundred years of baking evolution. It's surprising when you realize that everything from puddings to cakes to cookies vary little in the range of ingredients used. Versatile ingredients such as flour, sugar, fat and eggs make this sort of variation possible. These are the building blocks of pastry. Vegan baking is easy when all you have to worry about is manipulating flour, sugar and fat. So what are we do to do in regards to replacing the almighty egg? There is a legend that the Romans believed in chicken eggs so much, they mixed them into their concrete. To first understand what we need to replicate this building block we need to understand what an egg does in the world of baking.
Vegan Butter Recipes

Mattie
7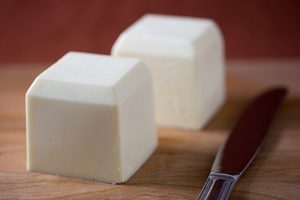 The more I learn about pastry, the more I realize that European pastry is on a completely different level compared to classic American pastry. My impression is that European pastry is all about introducing flavor depth through manipulating eggs, butter and technique.
Croissants
,
strudel
and danish pastries come to mind. American pastry, on the other hand, tends to build off bold flavors with a strong sugar backbone accentuated by spices.
Apple pie
,
cupcakes
and
cookies
come to mind here.
In the quest to become an adept baker, it's important to draw from as many influences as possible. One trick that many American style bakers use to improve flavor depth is taking a cue from European bakers by using cultured European style butter.
How does American style butter differ from European style butter? Let's take a look.
Vegan Baking Guides

Mattie
0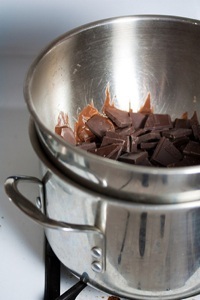 My love affair with chocolate comes from many things: The smell of rich cocoa that fills your nostrils upon opening a box of chocolate; the numerous shapes and sizes and the way the light reflects off their glossy angles; the fillings that lurk within certain chocolates, waiting to be discovered; the snap when you bite into it, sending a shockwave throughout your mouth that signifies that the rush of chocolate flavor has been unleashed to your senses. This telltale snap is like a magician quickly withdrawing a velvet cloak, exposing the magic below.
Fascinated by this experience, long ago I set out to make my own chocolate
chocolate bonbons
with good quality store bought baking chocolate. I'd melt the chocolate and use it to coat some fillings and everything would be great. I could pack them up for Mom and she would be astounded when she learned that I had done this all myself.
There was only one little problem though.
Vegan Granola Recipes

Mattie
5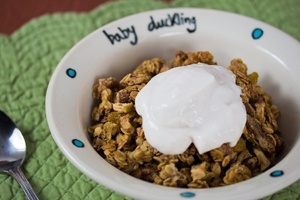 This Vegan Apple Pecan Granola recipe brings on the apple flavor with the help of both apple chunks and apple sauce. Cashew butter forms its base and packs extra protein so you'll have sustained energy throughout your morning. I go low on the sugar for this same reason and to give the other ingredients a chance to contribute flavor. Nutmeg, allspice and cinnamon work to highlight the apple. Chopped pecans toast during baking and add a welcome nutty crunch. Once you've
chosen your preferred apples
and baked this granola to perfection you can add it to ice cream, splash it on non-dairy milk or top it with a dollop of non-dairy yogurt.
Vegan Baking Guides

Mattie
1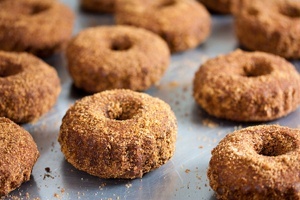 Polish your whisks, restock your vanilla extract, proof your yeast, pre-sift your flour, sharpen your vegan butter knives and mise your place because
Vegan Baking Day
is almost here! Vegan Baking Day is a day to promote how awesome vegan desserts are and have fun doing it. Vegan desserts are still regarded as sub-par in many circles. Vegan Baking Day is all about changing that! Remember those delectible lemon bars you've been meaning to bring to work? you know, the ones that people say you should sell because they're so good? Bake 'em and share 'em! Vegan Baking Day is the day to share your little piece of heaven with your co-workers, friends, lovers, insurance adjusters, dog walkers, enemies and cohorts.
How it Works
Where are you going to be on October 1st? Wherever you are, bring along your favorite homemade vegan baked eats and place them in a communal area to share with anyone who happens to notice. Happen to be at the DMV? A picnic? A houseparty? Just another dreary day at work? These are perfect places to share your eats with the unsuspecting world. Better yet, team up with a few people, set up a table and give out vegan treats to the public at the location of your choice. Let's spread tasty vegan eats worldwide!
When you share your favorite vegan awesomeness with whoever you happen to be around during the 1st of October you accomplish two things:
1) You promote the fact that vegan baked goods are awesome.
2) You have fun. When was the last time someone hated on you for sharing your homemade treats? Everyone wins!
We Need Your Help
We need your help to help spread the vegan baking love as much as possible! If you happen to know any vegan bakers beside yourself who are interested in promoting veganism through
baketevism
, please let them know about Vegan Baking Day, follow
@veganbakingday
on Twitter and and Like the
Vegan Baking Day Facebook Fan Page
.
So what are you planning on baking for Vegan Baking Day and where do you plan to celebrate it?
Vegan Butter Recipes

Mattie
3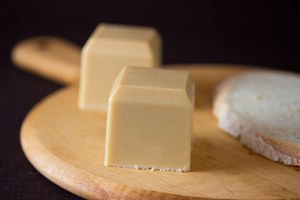 Several years ago, one of my favorite restaurants,
Millennium,
in San Francisco had a particular bread spread they would serve with fresh bread, just as you were seated. This particular spread wasn't buttery, but it had a particular creamy buttery
oomph
that actually made it taste better than butter when it was slathered on your crusty slice. And since it obviously wasn't butter, you could spread on even more without getting funny looks from your Mom across the table. You could run out of it and confidently ask for more, again and again! Then one day they switched over to a fava bean-based spread that was sadly sub par and the bread spread I loved oh so much mysteriously disappeared from existence. This savory bread spread made a lasting impression on me and I knew that one day I would rise to the challenge and create my own rich version.
Vegan Truffle Recipes

thesweetlife
7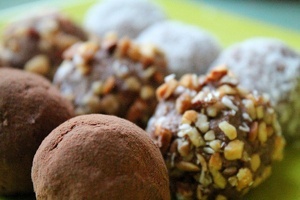 This super easy Vegan Coconut Almond Truffle recipe will satisfy that late night chocolate craving without the excess sugar and empty calories of other desserts. This perfect blend of coconut, chocolate and almond will keep you coming back for more.
Vegan Cheesecake Recipes

thesweetlife
28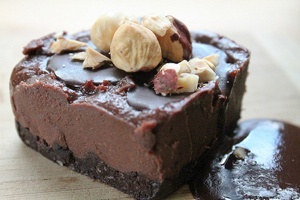 I have to admit, I used to have a sort of prejudice against raw desserts disbelieving in their potential goodness. Oh was I wrong. This is one of my favorite desserts I have ever made. Ever. This Raw Vegan Chocolate Hazelnut Cheesecake is so rich and creamy your friends won't believe that it's vegan.
Vegan Sponge Cake Recipes

G.Vongola666
25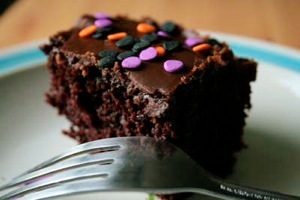 Ok so I found this Vegan Chocolate Cake recipe and it was a HUGE hit with my family and friends. It was quite easy to make as well! I've never really been a cake person, in fact I detest the stuff for the most part; but this cake made even me nod in approval. The blend of coffee that I put in the recipe adds to the chocolaty goodness and taste. It's very moist as well. There is a glaze that goes with the cake, but I personally never use it. I think the cake is just fine alone. However, I will add the directions for the glaze in case you guys want to try it.... Enjoy!
Vegan Icing and Glaze Recipes

Mattie
0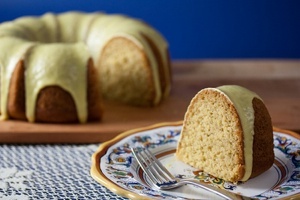 Vegan Orange Icing is perfect for doughnuts, cookies or cakes such as
Rosemary Olive Oil Semolina Cake
. It features fresh orange juice that lends a bright burst of flavor, coconut oil to allow it to solidify properly and a touch of vanilla extract for depth of flavor.