Vegan Yeasted Enriched Bread Recipes

Mattie
5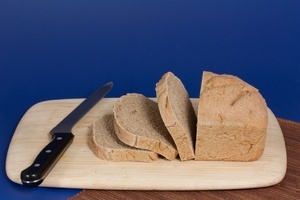 There's nothing quite like home made bread. This hearty Easy Vegan Wheat Bread recipe is easy to whip up if you have a few hours and it's really simple. In bread baking, longer rise cycles at lower temperatures usually result in more flavor compounds that are generated due to the yeast extracting and break down more starches in the flour and converting them into sugars which will then get caramelized during baking. Some doughs call for an overnight rise in the refrigerator so optimum flavor can be developed. In this vegan loaf you have the option of doing an overnight slow rise in the refrigerator or a regular rise. The two first rise cycle is for the main fermentation of the dough where the yeast eats the most sugars and rises the bread with CO2. The last rise is called
proofing
in where the dough rises after it's been molded into it's desired shape or placed in it's specific mold.
Vegan Brittle and Bark Recipes

Mattie
1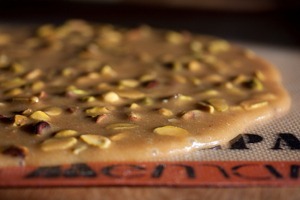 Pistachios paired with
cardamom
then kissed with rum makes this Vegan Pistachio Cardamom Brittle recipe stand out. Cover it in melted dark chocolate to transform it into pistachio chocolate bark if you want to give it another flavor dimension.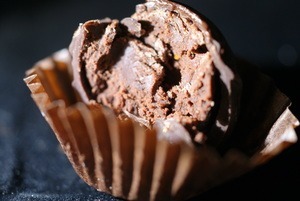 With the holidays rapidly approaching and funds dwindling about as fast, you might be wondering how in samhain you're going to pull out all the stops and deliver a memorable gift this year. Or you may be dreaming up ideas on getting yourself into a chocolate induced coma so you can cope with the stresses of life. Either way, now is the time to take matters into your own hands, put on your DIY hat and make a box of chocolates.
Like most things that are a little time consuming, the rewards of doing this are pretty big. I mean, the probability of having extra chocolates on hand is extremely high. I repeat: You're going to have tons of awesome chocolates after you do this! So what are you waiting for?
Vegan Bonbon Recipes

Mattie
3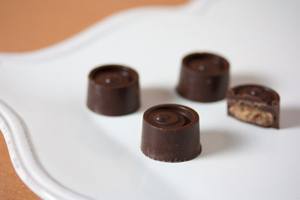 One of the reasons marzipan goes back ages is because it's extremely versatile. It can be used for anything from cake decorations, fillings in cookies and pastries or in this case, a center in this Vegan Bonbon recipe. A touch of almond extract brings out some extra flavor so it can compete on the same level as the chocolate. This recipe uses a
chocolate mold
. If you don't have one, place the marzipan balls in the freezer for an hour or so, roll them in melted chocolate, then place them on a parchment paper lined cookie sheet before returning them to the freezer for about another hour.
Vegan Bonbon Recipes

Mattie
3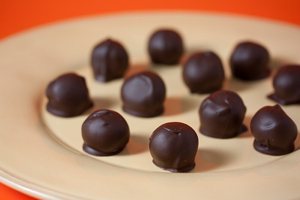 This Vegan Chocolate Orange Bomb bonbon recipe packs a seductive orange one two punch: They involve candied orange peel pureed with a kiss of Grand Marnier, mixed together with chocolate, then enrobed in a chocolate shell. This is a great vegan bonbon to have on hand when assembling your own box of chocolates for a special occasion.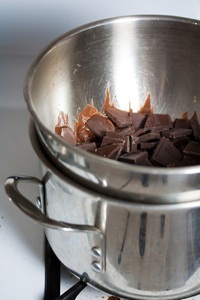 Sometimes when working with things like chocolate, custards and fondant it's important to have slow, even, consistent heating. This ensures that your ingredients don't become too hot too fast or too much, which can cause them to break down and have their flavor negatively impacted. Other times you might want to work with something like melted chocolate for an extended period of time and not worry about constantly adjusting the heat to ensure that it's evenly melted. This is where a double boiler comes to the rescue. It's like cruise control for your heat!
A double boiler is a specific piece of cookware consisting of two fitted pots. The bottom pot is filled with 1 to 3 inches of water and the top pot fits above it and holds the ingredient that you're heating.
Vegan Candy Recipes

Mattie
2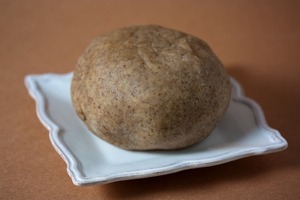 Marzipan is almond meal that's been added to caramelized sugar which makes it similar to frosting in consistency. It's origins come from present day Iran or Spain according to theory but its true origins, as well as where the term 'marzipan' originated from are shrouded in mystery. It's extremely versatile, making a fantastic filling for cookies and pastries, a center for chocolates like
Marzipan Truffles
or rolled into stollen. It can be colored, flavored and formed into candies or used in cake decorating. You can even use other nuts besides almonds like macadamia nuts, cashews or brazil nuts. Marzipan can also be mixed with fruit and served in squares. In the vegan recipe below I didn't remove the skins of the almonds so it came out a light brown.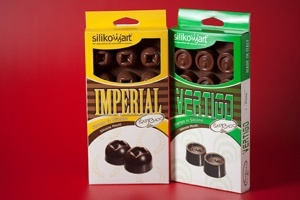 Silicone baking products are starting to infiltrate the kitchen at an astonishing pace. I remember the good old days when we had to walk in the snow for 13 miles, uphill in each direction to find paper to make paper mâché food molds that would catch fire in the oven. It would bind to our food and we'd go "oh no, there's paper in my food". That's the way it was and we
liked
it. Now we have a variety of silicone cookware options from spatulas to baking sheet liners to... chocolate molds.
Silikomart has introduced silicone chocolate molds to make light work of your
chocolate truffle
making endeavors. Read on to see how well they fared.
Vegan Brittle and Bark Recipes

Mattie
2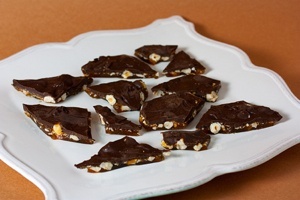 Hazelnuts, also known as filberts, are toasted to give this Vegan Chocolate Hazelnut Bark recipe a great crunch. Frangelico, a hazelnut liqueur, ups the ante with the hazelnuts for a deep, rich flavor. This vegan brittle is further enhanced with orange zest and then smothered in chocolate.
Vegan Yeasted Enriched Bread Recipes

Mattie
4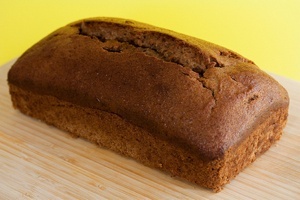 The more I use yeast instead of baking powder for quick breads such as Yeasted Vegan Banana Bread, the more I notice that yeasted breads produce far better flavor results. How did we get into this bad habit of
chemically leavening
our sweet breads with baking powder and baking soda? One word: convenience. Yeasted breads take about 3 times longer to make because we have to wait for the yeast to do it's thing. Yeast leavened breads are usually considerably more flavorful than chemically leavened breads because as the yeast ferments and spits out C02 that rises the bread, it also produces a multitude of complex flavor compounds. This is not the case with chemically leavened breads where few flavor byproducts are produced during the chemical reaction between acid and alkalne that produces the C02. Yeasted Vegan Banana Bread is now my go-to vegan banana bread recipe.
Other Vegan Baking Recipes

Mattie
1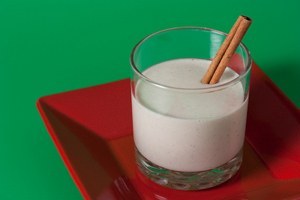 This Vegan Cashew Egg Nog recipe is super easy to make and doesn't actually contain eggs. It's just a great 'nog to put a splash of bourbon or rum into. It's even good on it's own. Using the arrowroot powder or tapioca flour is important to achieve the creamy texture and emulsify the fats with the rest of the liquids. Perfect for a lazy evening next to a
crackling fire
space heater. Legend has it that egg nog originated in England where it consisted of a mix of milk, eggs and either brandy, Madeira or sherry. It wasn't until it was brought over the the United States that it started to get mixed with bourbon, a reaction to other liquor's scarcity during the American Revolutionary War.
Vegan Candy Recipes

Mattie
2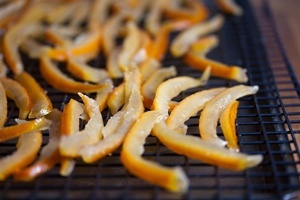 I used to get so grossed out at the mere thought of accidentally eating orange peel while eating an orange. Then I had candied orange peels and appreciated their candy form and created this recipe. Candied orange peels are a very versatile delicacy. Use them in Panettone, Stollen, Hot Cross Buns, pair them with almonds and cover them with chocolate or mince them and use them for topping on ice cream. Feel free to use other citrus peels in place, or in addition to orange such as lemon or lime. Just be sure to use organic peels because non-organic ones often have high concentrations of pesticide residues.