Vegan Baking Guides

Mattie
0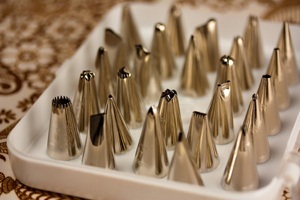 By now you may have decided to try this whole vegan baking thing and unlike most other hobbies, noticed how satisfying it is to voraciously consume the results when it works out. If you haven't been consuming the fruits of your labor in secret, perhaps the boss is a little farther away from laying you off in these hard times due to the ongoing appearances of your apple struedel at the office. In conclusion of our series, we give you Part 3 of Building Your Vegan Kitchen where we divulge the useful tools that make vegan baking more convenient, cost effective and fun.
Vegan Ice Cream Recipes

jackie
2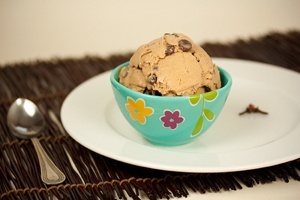 This Vegan Chai Chocolate Chip Ice Cream recipe uses non-dairy milk and cashew butter for creaminess. Raw cashew butter essential for this vegan ice cream due to it's neutral flavor; roasted cashew butter is not recommended because it has undesirable bitter flavors that will throw off the flavor profile. Chai is such an awesome hot beverage that it dominates the hot beverage scene to the point of where other hot beverages are jealous. So why not make it dominate the cold and icy scene as well by making it into ice cream? Then add chocolate? Well okay then!
Vegan Candy Recipes

Mattie
1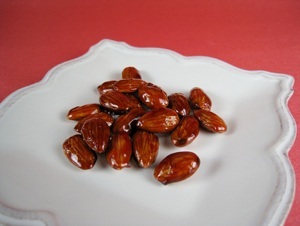 This Cherry Candied Almond recipe is an excuse for me to combine two of my most favorite flavor combinations: cherries and almonds. I used brown sugar and olive oil for a more complex sweetness profile and just the right amount of almond extract to bind the cherry and almond flavor in holy matrimony. Try these as a relatively guilt-free vegan snack, add them to salads or sprinkle them on your ice cream.
Vegan Syrup Recipes

Mattie
0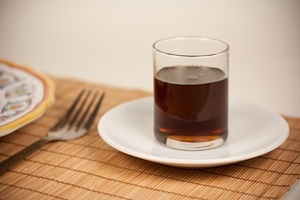 One of the best parts of growing up was waking up to the aroma of Dad's legendary pancakes every Sunday. After gorging on them doused with maple syrup, the fam and I would go hiking on Mt Tam. Like clockwork, I'd eventually proceed to have an enormous mysterious energy crash that would reduce me into a quivering mess that Mom would call
the shakes
. I later found out this was because the maple syrup I loved so much was causing my blood sugar to peak, then crash due to its high glycemic index. Now I'm a lot more careful by making sure that I get some veggie sausages and go easy on the maple syrup. Agave syrup has a significantly lower glycemic index than maple syrup. Adding maple extract to it makes it a delicious maple syrup substitution, as shown in this recipe. Check out our article on
sweeteners and glycemic index
to see how different sweeteners stack up.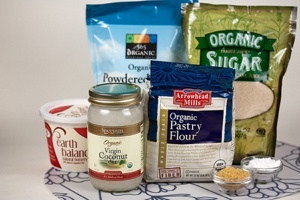 This is Part 2 of a 3 part series on how to get your kitchen dialed in for easy vegan baking. In
Part 1
we talked about essential cookware that we recommend to make things nice and easy. In this article we'll detail ingredients that will make your vegan baking adventures easier so you're not running to the store trying to find that one ingredient you forgot about at 1am.
Part 3
will detail specific tools that aren't necessities but are worthwhile additions to your vegan baking armory.
Vegan Baking Guides

Mattie
0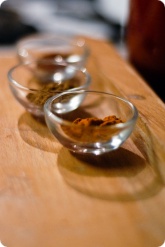 Mise en place, pronounced 'MEEZ ahn plahs', translates to "put in place". It means to have all your ingredients, cookware and your kitchen prepped and ready to go before doing your cooking or baking. With mise en place, recipes are reviewed and necessary ingredients and equipment are checked. Mise en place is used extensively in the food industry and is of equal importance to the recipe itself.
Mise in place is simply the act of just reading the directions, fully understanding and preparing yourself for the task you're about to do. If you bought furniture that needed to be assembled, you'd want to practice a variant of mise en place called "reading the directions first" for best results. You should get in the habit of mise en place every time you bake.
Vegan Pastry Recipes

Mattie
4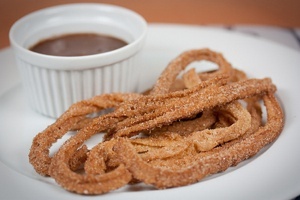 Churros are so good and such a rare treat that it's always a sign of good luck to actually find them. Traditionally they're made with eggs so vegan churros are an even more rare find. This Vegan Churro recipe features sugar and cinnamon for
churriffic
flavor and flax as the primary binder. It's important to use the biggest pastry bag star tip you can find and to go easy on the frying until they're just barely golden brown so they're not too crisp. A candy thermometer is crucial for best results. Enjoy these churros with Churro Chocolate Sauce that's enhanced with the creaminess of non-dairy milk and just a pinch of cayenne.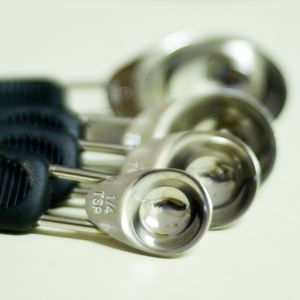 Making the decision to start vegan baking or to take it more seriously is a really good idea if I do say so myself. I'm warning you though- the more you get into vegan baking, the more you will get into vegan baking, until you do things like start vegan companies, build websites and write books. You have been warned. Things get much easier as you go along but one way to make things as easy and fun as possible is to pimp out your kitchen with the best tools and most useful ingredients. It's not that expensive I promise. This is Part 1 of a 3 part article on how to get that done.
Vegan Cupcake Recipes

Mattie
2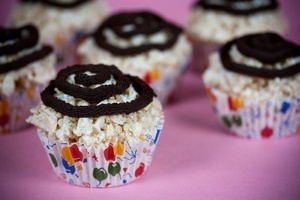 This Vegan Rice Crispy Treat Cupcake recipe is the first thing I made after ordering
Dandies Vegan Marshmallows
from Chicago Soy Dairy. I feel like a kid again with these gluten-free treats. Vegan baking doesn't get much easier than melting Vegan Butter, marshmallows, adding vanilla extract then mixing in puffed rice. Making the vegan ganache is slightly more involved but still simple. Be sure to make these as close to your eating occasion as possible because Vegan Rice Crispy Treats love to dry out. If you need to make them a day or so beforehand, keep them in an air-tight container.
Vegan Pizza Crust Recipes

Mattie
1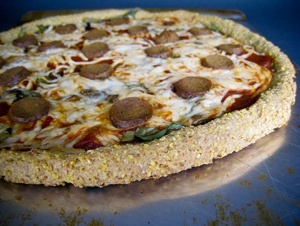 This Vegan Cornmeal Spelt Pizza Crust recipe is one of the fastest, easiest crusts around because it doesn't need lots of kneading and it doesn't require yeast. Although it's not gluten-free, it does have very low amounts of gluten which is good if you're trying to cut back on it due to food allergies. This recipe makes a vegan crust that is 12 to 14 inches. This dough can also be refrigerated for later use.
This weekend my good friends are getting married in Palm Springs. I'm also taking advantage of this time off to go camping in Joshua Tree National Park and visit a friend in LA. In the past I've often grappled with the difficulty of running around trying to find nourishing food while traveling. There's nothing worse than needing something nourishing and not being able to find it as you slowly feel your body running out of energy. Enter The Vegan Survival Kit.
Vegan Candy Recipes

Mattie
6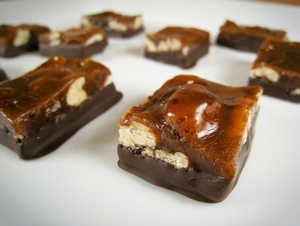 These chewy Vegan Pecan Caramel Chews are reminiscent of those little caramels you used to get from trick or treating when you were little, except they're packed with pecans and dipped in chocolate! Be sure to use a candy thermometer with this vegan caramel recipe for best results. If you like your caramel extra soft or extra hard, adjust the caramelization temperature 10F (6 C) lower or 10F (6 C) higher respectively.