Vegan Muffin Recipes

Mattie
11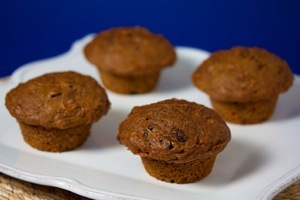 Carrot cake is my all-time favorite dessert so I adapted it into a heartier quick bread in the form of this Vegan Carrot Cake Muffin recipe so I could justify having it for breakfast. It's pointless to resist carrot cake goodness in it's new quick bread form so don't even try. A dollop of almond butter on top contrasts nicely with carrot cake flavor and adds extra nutritious oomph to power your day of world domination.
Vegan Brittle and Bark Recipes

Mattie
2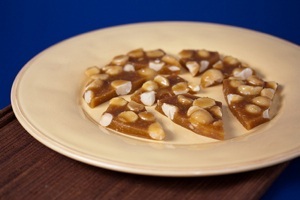 If pirates ate brittle (and you know they did) this Vegan Coconut Macadamia Nut Brittle would be the flavor and this is how they'd describe it:
Yaaar ya kitchen dwellin' landlubber! Coconut, caramelized sugar and macadamia nuts be tied together with a splash o' rum t' make this t' brittle o' t' pirate seas, matey! So whip up a batch and hand 'er over before ya be plank walkin'!
They might also marvel in the fact that this vegan brittle recipe uses coconut milk,
coconut oil
and shredded coconut for maximum coconut flavor, except it would be hard to hear yowled in that thick pirate accent.
Vegan Bonbon Recipes

Mattie
6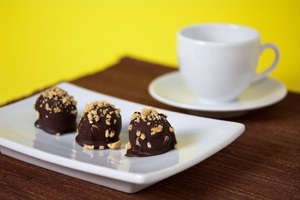 With this Vegan Peanut Butter Bomb recipe I captured the essence of fine, natural peanut butter, combined it with some lightly caramelized sugar and
Regular Vegan Butter
or margarine, then covered it in a dark chocolate exterior, completing an irresistible vegan chocolate bonbon.
Ever since the eighties when two people were walking down the street in opposite directions, one eating a chocolate bar, the other eating peanut butter out of a jar, we've known that the two go together really well. We know this because the two people allegedly collided exclaiming, "hey you're chocolate's in my peanut butter!" "My peanut butter's in your chocolate!" This has been documented as a true occurrence because I saw it in a Reese's Peanut Butter Cup commercial. I'm so thankful they just happened to have TV cameras rolling to get that on film. But what is up with the peanut butter in those things? It always tastes like it's deemed at the factory to be too low quality to actually make it into the panut butter jars. And the chocolate seemed like typical mass produced American chocolate fare, over-sweetened and chalky which barely qualifies as chocolate to this chocaholic.
Pennsylvania

Mattie
0
Pure Sweets Bakery: Pure Sweets was born in 2008 to provide an option for those who love sweets, who love healthy ingredients and who love animals. Finding treats to satisfy all three loves hasn't been easy... until now. Determinted that healthful, responsible ingredients make for healthier bodies, happier minds and a more balanced world, Pure Sweets is committed to using high-quality vegan ingredients and sustainable packaging.

After hundreds of late night baking sessions, a dream is realized: health-concious, animal-friendly treats that are pure for you and easy on the planet.
Violet Sweet Shoppe: Based in San Francisco, Violet Sweet Shoppe has a wide following and is especially well known for its delectable Blueberry Hand Pies – one of Crystal's original creations. Crystal herself is particularly proud of her dedication to wholesome ingredients that do not compromise taste. "I really like to make things without sugar," says Crystal. "I love baking with brown rice or maple syrup and agave." But don't let the health consciousness of Violet Sweet Shoppe fool you; these cholesterol-free, wholesome baked goods are just as sumptuous as the more traditional versions while living up to the standards of the most rigorous vegan.
Sugar Plum Vegan: We are a vegan order and wholesale bakery and catering company located in beautiful Sacramento. Our goal is to bring you the freshest, most delicious sweet and savory foods around. We use organic ingredients whenever possible and work with organic farmers to obtain the freshest, local and in season fruits and vegetables around.
New York

Mattie
0
Sweet Compassion Bakery: Sweet Compassion was formed in 2009 by Lauren Krohn, a photographer, animal rights activist and talented vegan cook. We are a small company dedicated to making delectable chocolates by hand, in small batches, with the highest quality ingredients. We are 100% vegan, fair trade and we use as many organic ingredients as possible.
Illinois

Mattie
0
Manna Organic Bakery: What is Manna bread? It is a cake-like, sprouted bread, free of salt, no oils, no sweeteners, no leavening agents. Also known as bible bread, sport breadmanna c-r. Manna is a moist and delicious, high in protein and fiber. Available in 9 delicious flavors in your favorite health food store, and most Whole Foods markets, in the USA and Canada. Or order here on our website!

MANNA BREAD® "...moisten your wheat, that the angel of water may enter it…and the blessing...will soon make the germ of life to sprout... then crush your grain and make thin wafers as did your forefathers..." — Essene Gospel of Peace.
Fat Bottom Bakery: Fat Bottom Bakery is a project started by Carolynn and Ashley in Oakland, Ca-- the manifestation of our desire to spread delicious, cute, cruelty-free things to the world.
Black Orchid Bakery: Black Orchid is a gourmet vegan bakery. We are committed to providing creative, high quality cakes, cookies and pastries guaranteed to titillate your taste buds. As much as possible, we strive to use organic, fair-trade and locally-sourced ingredients. All of our baked goods are dairy-free, egg-free and contain no animal products or byproducts.
West Virginia

Mattie
0
VenerableBean: An all Vegan baking company located in Morgantown, West Virginia. Special orders are welcome. Gluten Free items are available by special order. You can purchase my fresh baked goods at Mountain peoples co-op in downtown Morgantown, WV.
New York

Mattie
0
Red Mango Bakery: Red Mango Bakery is a fully licensed wholesale bakery that provides Cakes, Cupcakes, Cookies, Muffins and more to Cafes, Coffee Shops, Restaurants, and other Food Service Establishments. Our professional kitchen is located at 228 Albany Ave.

We use traditional ingredients in the baking process, as well as ingredients that are free from any animal by-products, known as Vegan. We uphold our Vegan products to the highest taste standard, and they are enjoyed by Vegans and Non-Vegans alike!