Vegan Sponge Cake Recipes

Mattie
2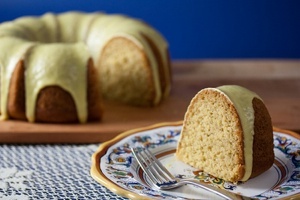 This moist, rich Vegan Olive Oil Rosemary Semolina Cake showcases how olive oil can make a great combination of sweet and savory when it's paired with fresh rosemary. Early on in the design of this cake recipe I was really liking where this cake was going but I knew I cold take it further. I remembered how olive oil tends to go seamlessly with pasta dishes so why not use the same type of flour for an olive oil cake?
Vegan Pastry Recipes

Mattie
4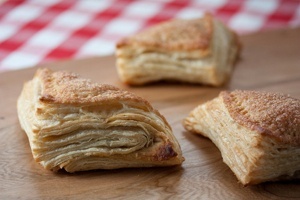 Apple Turnovers are perhaps one of the rare baked treats that suit the season any time of year. Perhaps the sweet, gooey apple paired with buttery, flaky puff pastry being one of the ultimate flavor combinations is why. This vegan treat would hit the spot on a cold winter morning, a hot summer day, or as a midnight snack. Put leftovers in the toaster oven for a few minutes to make them taste like they just came out of the oven. For the ultimate dessert, top it with some
Vegan Vanilla Ice Cream
and
Vegan Caramel Sauce
.
Vegan Cookie Recipes

Renoodle
8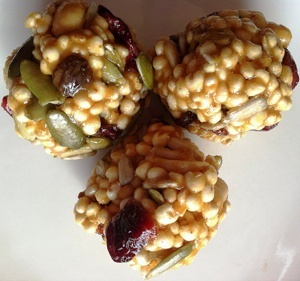 These Vegan Power Puffs are so puff-tastic! I highly recommend them. I have never used millet before and I will certainly be using it more often. It's fluffy, light and has more protein than puffed rice. These little power puffs are a perfect snack with a hot cuppa joe. You can easily cut this recipe in half if you aren't trying to feed an army. These are so good that my husband brought them to his Tai Chi class this morning and vanished with a request for more next week…I highly suggest you give these a whirl.
Vegan Pastry Recipes

Mattie
5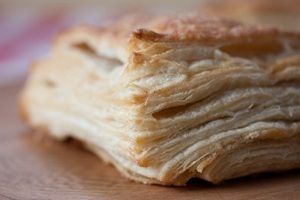 I'm obsessed with vegan baking because unlike traditional cooking, there are nearly no limits or boundaries to creating completely new forms of food. Effectively harnessing your imagination is the only truly required skill. Developing this skill, as well as understanding the fundamentals of baking allows you to create true art forms. Then you get to eat them.
Puff pastry is a truly remarkable building block for vegan baking because of its versatility. It can be the basis of anything from flaky layers enveloping fruit, coiled into rolls such as sticky buns, or twirled into cinnamon and sugar twists.
Referred to in France as
pâte feuilletée
which means
pastry made leaf-like
, puff pastry is made of several hundred alternating layers of dough and fat. The water in the dough produces steam during baking that separates and lifts the layers into the puffy goodness that we know and love. This steam-assisted lift is known as
chemical leavening
. Puff pastry often gets a bad rap due to the many steps of preparation involved. Puff pastry can be a truly time intensive endeavor- if you let it. I recommend splitting the preparation into little pieces and working at it a little bit at a time over a few days. This way you'll only spend a total of about an hour on it. You also have the option of making your puff pastry and storing it in the freezer for a special occasion or for that day when you can no longer resist some sticky caramel cinnamon buns.
Vegan Pastry Recipes

Mattie
3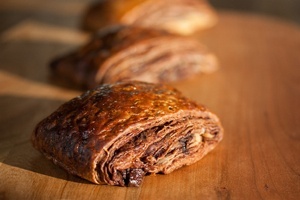 The only thing I like better than flaky, buttery, vegan croissants is flaky, buttery, vegan croissants wrapped around just the right amount of chopped dark chocolate so that it barely oozes out the sides as it's baked to perfection. In these chocolate croissants, also known as
Pain au Chocolat
, I used chocolate croissant dough which is made by mixing a little sugar and cocoa powder into the fat block that forms the base of the croissant dough. The result is hundreds of layers of chocolate buttery heaven; an exquisite pastry that elevates chocolate to a whole different level. Be sure to use dark chocolate that is 60% cacao to achieve optimum balance between bittersweet chocolate and the buttery notes of the croissant dough.
The Faces of Vegan Baking

Mattie
0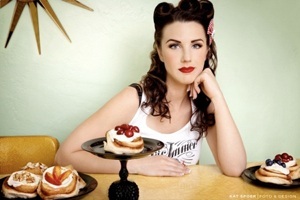 This month I was lucky enough to ask Shannon Michelle, of
Cinnaholic
fame, some questions on the ins and outs of starting and operating her vegan bakery.
Mattie
: Please tell us a little bit about yourself and how you got into vegan baking.
Vegan Cookie Recipes

Mattie
5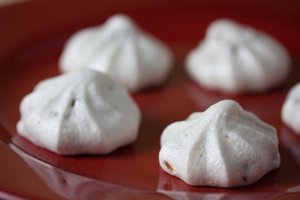 I set out to into the annals of food science to create a Vegan Meringue recipe. I ended up uncovering a treasure trove of information that can be applied to other vegan baking applications.
Meringue is a perfect example of how eggs act in traditional baking and how difficult it often is to replace them. When an egg is beaten extensively the proteins contained within it unravel and bind together like rebar in concrete, air bubbles are trapped and ingredients are easily able to coexist together regardless of moisture content. Traditional meringue involves beating an egg mixture until it has incorporated a large volume of air bubbles, strengthening this mixture so it holds it's shape, adding sweeteners and flavorings then piping and baking it so it slightly leavens and dries to a crisp. Perfectly baked meringue has a delicate crispness that dissolves in your mouth and leaves behind a slightly chewy but not gummy center. There's nothing earthy and natural about this meringue. Order your hard to find ingredients online, put on your extra nerdy glasses and let's make vegan meringue!
Vegan Baking Guides

Mattie
0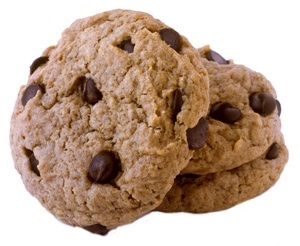 What if there was a special day where people around the world shared their favorite vegan eats with everyone no matter where they happened to be? I pondered this question and quickly found that there was no such thing. So after much planning, I'm proud to introduce
our
day,
Vegan Baking Day
!
What is Vegan Baking Day?
October 1st is a day to celebrate the goodness of vegan baked goods. A day to share them with your friends, neighbors and co-workers. A day to revel in the fact that you
can
have your cake and eat it too. Vegan Baking Day is all about promoting vegan baking and having fun doing it!
How Does it Work?
It's simple: Bake up your favorite vegan eats and share them at work, band practice, school, drama rehearsal, jury duty, the car wash; wherever you find yourself going on the 1st of October. I guarantee whoever you're around will go nuts because who doesn't love baked delicious goodness? You'll also be promoting vegan baking because once people get wind of the fact that these eats are vegan, there's a good chance they'll be impressed, inspired, or at least happy that they happened to be around to get a free snack.
So what do you think? What would be the ideal thing to make for Vegan Baking Day?