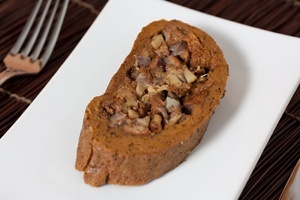 Thanksgiving. Few holidays get anywhere close to the ultimate celebration of family, food and friends. I don't know of a single person who avoids this blatant quest of sheer gluttony. Utter the words
Vegan Thanksgiving
or
Holiday Feast
to an unsuspecting dinner guest, however, and you can sometimes see the look of horror on their face for a few seconds before the politeness kicks in. "Oh yes, a vegan feast will be such a gleeful endeavor!" they may half-heartedly exclaim. Well, while you were fake-smiling your way through our tofu pudding several years ago, we vegans have been doing our homework and now the fruits of our labor can be found all over the place, as a quick Google search can prove.
Gone are the days of tasteless mashed potatoes, dry rolls and no centerpieces. Over the years I've been hard at work perfecting Thanksgiving and Holiday Feast-friendly vegan recipes. Here are some of the best from the Veganbaking.net recipe arsenal.
Vegan Bonbon Recipes

Mattie
1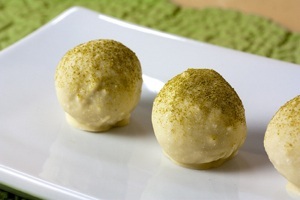 This Vegan White Chocolate Matcha Bonbon recipe is a great example of the possibilities that can be achieved with white chocolate and ganache. The ganache is enhanced with matcha green tea powder and a touch of rum, enrobed in a white chocolate coating then dusted again with matcha powder for a beautiful confection with subtle green tea overtones. Cocoa butter has a very small temperature range between being too runny and too solid so remember to keep this in mind before rolling the ganache into balls and later coating them in the white chocolate.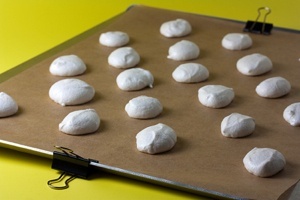 I've been through it all when it comes to searching for convenient ways to bake cookies with even, consistent results and unburned bottoms. When I first started baking vegan cookies I would get frustrated when they would often affix themselves to the baking sheet with an unknown force that would rival Superglue. Rather than marketing this as CookieGlue and becoming a millionaire I decided to find ways to make cookie baking as easy and reliable as possible. It's all about using the right tools for the job.
Vegan Frosting Recipes

Mattie
1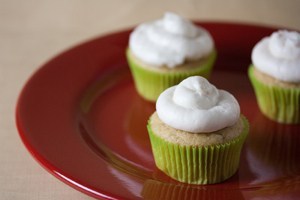 This Rich Vegan Coconut Frosting recipe is just bursting at the seams with coconut flavor. It's similar in flavor and texture to the frosting at
BabyCakes
bakery if you've ever been lucky enough to do a "shot" of theirs. This vegan frosting differs in that it takes advantage of
caramelizing sugar to the thread stage of 230F (110C)
where it contributes a smooth velvety texture. It also uses soy milk powder (not to be confused with soy flour) to improve creaminess and a dash of vanilla extract to tie it all together. A touch of agave syrup inhibits sugar recrystalization in the frosting. There is a delicate balance due to
coconut oil's tendency to melt above 76F (24C)
which is one of the caveats of using coconut oil in a frosting.
Be extremely careful if you choose to customize this recipe with your own flavor substitutions; adding too much liquid can make it excessively runny. You even have the option of using refined coconut oil if you want to go in a completely custom non-coconut flavor direction. When using this frosting and other coconut oil based frostings, try to keep your cake in temperatures below coconut oil's melting point or your frosting may slip slide away along with your sanity.
Vegan Pastry Recipes

Mattie
5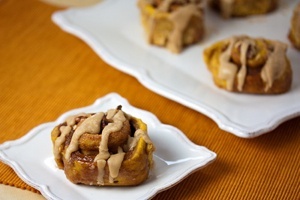 This Vegan Pumpkin Cinnamon Roll recipe takes every opportunity to pack itself with pumpkin and then become enhanced with a delicate balance of cinnamon, nutmeg, cardamom and cloves. Barley malt syrup can be a little tough to find but it's an essential flavor booster that puts the
pump
in pumpkin for these vegan cinnamon rolls. Rum Spice Icing is literally icing on the cake.
Vegan Icing and Glaze Recipes

Mattie
3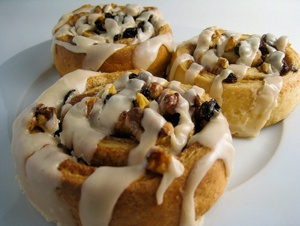 This Vegan Vanilla Icing recipe is a great companion for drizzling on
Vegan Cinnamon Rolls
, danishes, or
Vegan Pop Tarts
. It features confectioners sugar as its base and just a touch of non-dairy milk and vanilla extract to bring it all together.
Vegan Icing and Glaze Recipes

Mattie
0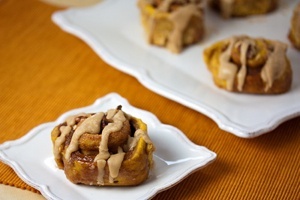 This Vegan Rum Spice Icing recipe is a great companion for drizzling on spiced versions of
Pumpkin Cinnamon Rolls
, danishes, or
Pop Tarts
. The vegan icing features powdered sugar for its base, dark rum, cinnamon, cardamom and cloves to move the spice factor forward. Feel free to cut back on the rum or eliminate it completely if you're concerned about alcohol consumption.
Vegan Candy Recipes

Mattie
7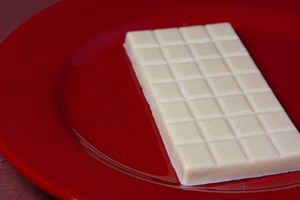 Commercial vegan white chocolate is relatively difficult to find but is an extremely versatile ingredient to have in your kitchen. Luckily, white chocolate's main ingredient, cocoa butter, is
easy to find at affordable prices on the internet
if you can't find it at your local health food store. A touch of
soy milk powder
and vanilla extract enhances depth of flavor in this chocolate.
Earlier attempts at making this Vegan White Chocolate recipe have resulted in excessively grainy bars due to the absence of industrial chocolate making equipment. A few extra steps will ensure this bar is as smooth as possible. Grinding your soy milk powder in a rotary coffee grinder will make the powder granules as small as possible and cause them to not be as noticeable on the palate. Tempering the chocolate to ensure proper fat crystal formation is the other crucial step to ensuring a smooth, high quality bar. Once you've mastered these steps you can add flavorings like cardamom, matcha, cinnamon and ginger powder for a truly outstanding vegan white chocolate.
Vegan Baking Guides

Mattie
1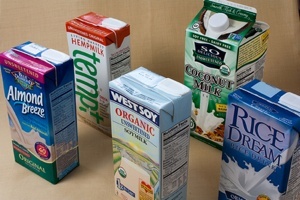 There's been lots of development in the world of non-dairy milk in the last couple years. We used to just have soy milk then rice milk showed up on the scene followed by almond milk. Lately coconut milk and hemp milk have arrived on market shelves. I've been using soy milk religiously ever since I switched from dairy milk back in ye olden days and loved it so much I never really felt the need to move away from it. Non-dairy milk is such an important staple in vegan baking that recently I felt it would be beneficial to the world of vegan baking to sit down and take a really close look at what I consider to be the five most popular non-dairy milk types. I wanted to see how they measure up against each other from a vegan baking perspective. How do they taste? How creamy are they? Do they curdle when exposed to apple cider vinegar? Will my recommended non-dairy milk for vegan baking, soy milk, retain it's vegan baking crown or will another non-dairy milk prevail? Read on to see what I found.
Vegan Yeasted Enriched Bread Recipes

Mattie
35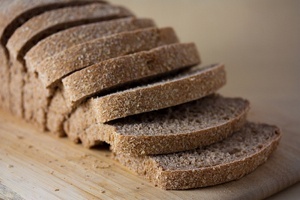 This Vegan No Knead Whole Wheat Sandwich Bread is now my go-to vegan bread recipe because it's simple to make and is a great example of how wet doughs can create wonderfully light and spongy breads. The higher water content allows the
gliadin
and
glutenin
in the flour to align into tight gluten bonds over time so you can forget about all that kneading drama. The result is a fluffy, chewy loaf that's perfect for sandwiches. Feel free to use this bread as a starting point and substitute a ½ cup of the flour for things like wheat germ, wheat bran or oat bran. It's important to note that due to the wetness of this dough it's only suitable for baking in a loaf pan.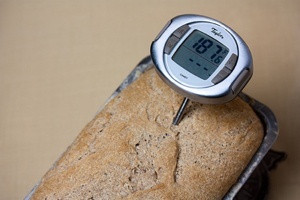 The art of bread baking relies on mastering several techniques at the same time. These techniques are crucial to baking bread that has both a good texture and flavor. In order to help us understand this we need to realize that one of these techniques; the baking, consists of three things: The caramelizing of the sugars, the roasting of the proteins and the gelatinization of the starches all contained within the flour. Temperature, oven placement and baking time have everything to do with how much these effects occur in our bread and it vastly effects the outcome. Bread baked too much will have a dry, burnt feel as the proteins, starches and sugars burn. Bread baked too little will lack flavor due to the proteins not being roasted enough and the sugars not being caramelized sufficiently. It can also inhibit a yeasty, grainy flavor due to the alcohol from the yeast not being cooked off and the starch crystals not getting gelatinized enough.